Opportunities at Spine Team Texas
Engaging careers with healthy work-life balance
At Spine Team Texas, we are a diverse, multi-talented community of collaborators striving daily to provide the ultimate care and experience for our patients. If you have a passion for helping others, you are one of us.  We have available careers in North Texas, so review the healthcare jobs and admin jobs below, and don't hesitate to setup job alerts and stay up to date!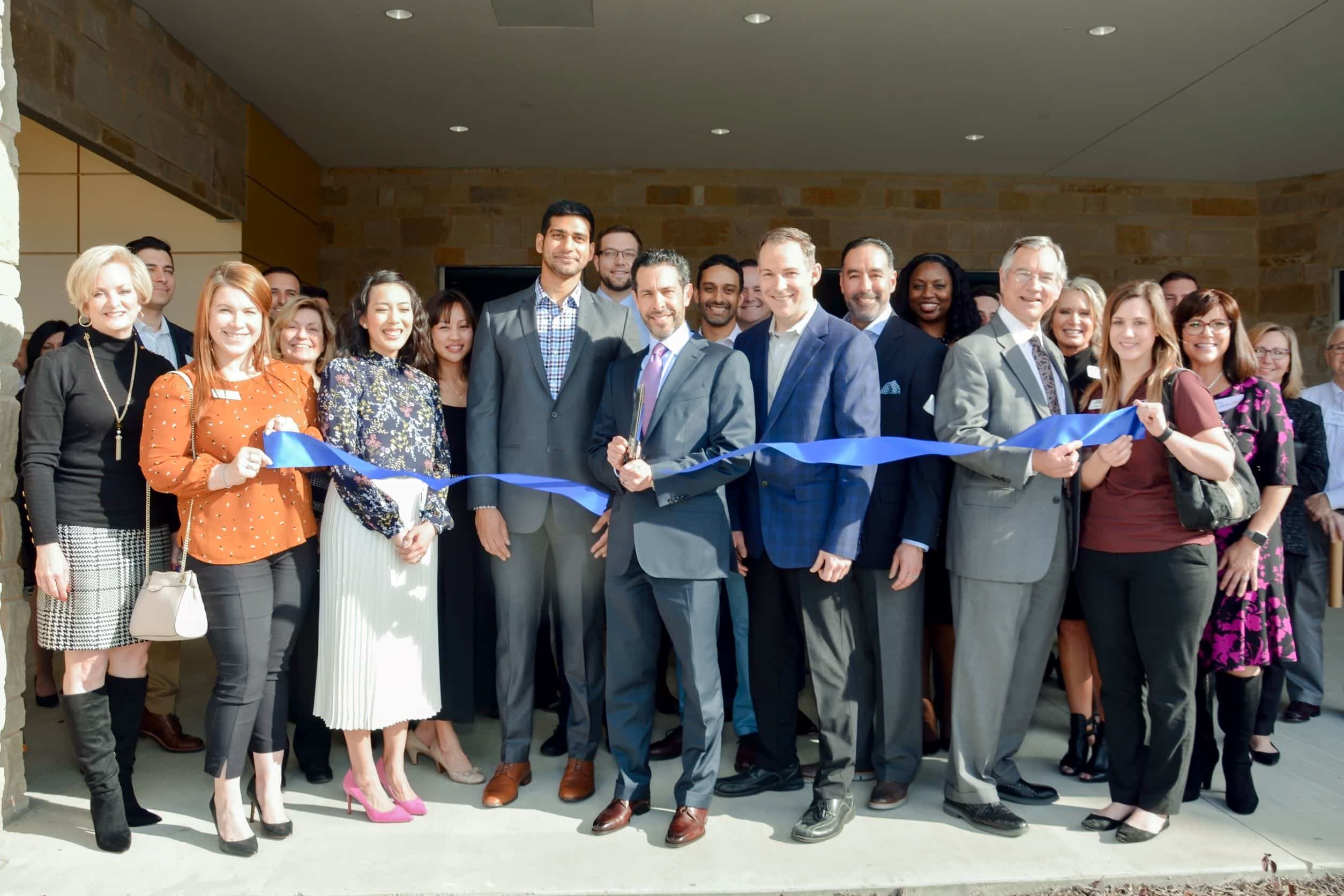 Pro Fighter, Girl Dad,
X-Ray Technician
Employee Feature: Edwin Figueroa
Inside the makeup of our Southlake Clinic, walks an array of healthcare professionals. There are of course physicians, nurses, medical assistants, procedure schedulers, and so on and so forth. Among the group walks an x-ray technician…
In-person Individual or Panel Interview
In uniting around the common goal of excellent patient care, Spine Team Texas exemplifies teamwork. Each team member has a critical role in our organization. The highly-specialized nature of our business allows us to lean on each other's expertise, which builds trustworthy relationships and creates efficient workflows. 
We encourage open communication for all projects and initiatives, and foster a serious sense of ownership amongst our employees. We believe we serve our patients best when each employee is recognized and utilized to their full potential. Whether it is cross-training with other team-members or taking special coursework and certifications, each person at Spine Team Texas is encouraged to seek new skills and experiences.
Our long-term goal is growth, serving more patients in more locations, however we approach business in the same way we approach back pain. We take small, consistent successes and compound them into grand victories. We have been able to provide top-tier healthcare in Texas for almost two decades, thanks to each employee hitting their personal goals along the way.
Lastly, we boast serious diversity at every level of our organization. Whether it is age or nationality or sex or religion, Spine Team Texas is composed of various peoples and cultures all united in one goal. It is our clarity of vision, in addition to the respect we have for each other, that makes our diversity an effortless byproduct of providing our patients with the best possible healthcare.
In creating a culture where our employees feel supported and appreciated, Spine Team Texas offers extensive benefits that aim to improve the health and wellness of you and your family. Work-life balance is a top priority of ours, because happy team members create a better patient experience. Patient-facing roles do not include nights or weekends or being on-call. Our unique discipline allows us to have more traditional work hours than many other medical roles. This gives our employees greater opportunity to make and maintain relationships with friends and family. We also have 8 paid holidays, and PTO accrual starts day 1. The longer you remain employed with Spine Team Texas, the more PTO you can store and roll over, as well. 
We provide the works when it comes to insurance benefits, Medical, Dental, Vision, Disability, Life, and more! We want to make sure you have every opportunity to take the initiative on protecting the lives of you and your loved ones. There is also the option of Health Savings and Flexible Spending accounts, so we have everything you need to feel secure and healthy.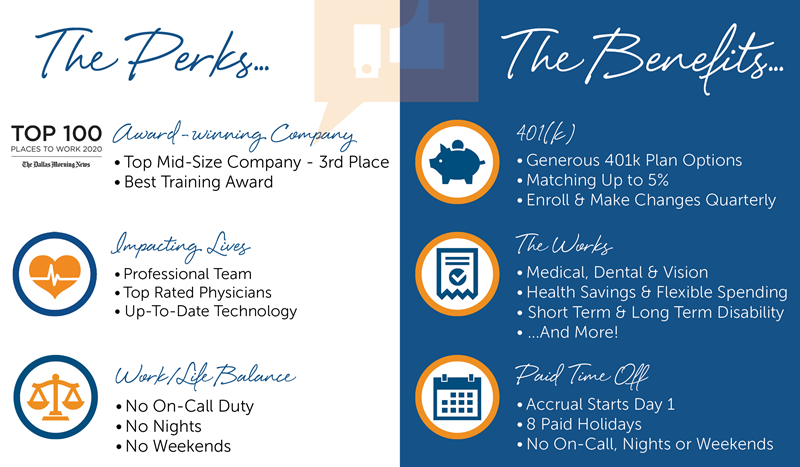 We provide further security by extending generous 401k options. You can set it and forget it, or if you are more financially inclined, you can make changes quarterly. We also provide matching, up to 5%, so you get a reward for taking your retirement by the reins. We grant all of these benefits to our employees in order to set a solid foundation for personal growth.

Spine Team Texas knows that order at home allows for greater performance at work. We believe the standard we set in terms of benefits for our employees helps them find greater focus at work. And while there is no shortage of stressful positions in the medical field, we find our work environment to be very reasonably paced while remaining every bit as rewarding.
More than great benefits and a fun, supportive culture, Spine Team Texas puts wellness at the forefront of what we do, both for patients and employees. We are genuinely interested in having each team member thrive at work and at home. We see every individual as being much more than their position or skill, and we encourage each other to share who they are beyond Spine Team Texas. Enjoying life and sharing it with others allows each person to incorporate their personal and work identities, such that work becomes a positive life experience instead of a chore. 
We promote wellness in various ways, such as allowing for participation in civic duties. Supporting your community by voting and/or attending a convention is a critical part of our society, so not having our work conflict with such duties is a must. We also know that societal pressures can be difficult on many people, especially with the advent of social media. While social media is prohibited during work hours, we recognize its usage is commonplace outside of work, and thus has a great effect on the mental and physical wellbeing of our employees. Because of this, we provide guidelines for how best to engage with these technologies.
When it comes to continuing education, we jump at the opportunity to help our employees grow in their abilities. When a person feels confident in their abilities, not only do they perform better at work, but they feel better doing it. We strongly promote our employees finding conferences, training, and other vehicles for learning and growing in their role. We should never have a team member feel like they are unable to complete a task because they lack knowledge. 
Lastly, our benefits go a long way in helping the overall wellness of each employee, and part of those benefits are work events and celebrations. Whether it is a chili cook-off, scavenger hunt, holiday party, or some other fun occasion, our team constantly finds ways to take a break and enjoy quality time with the people we serve alongside each day. So come meet the team, join the fun, and help kick back pain to the curb!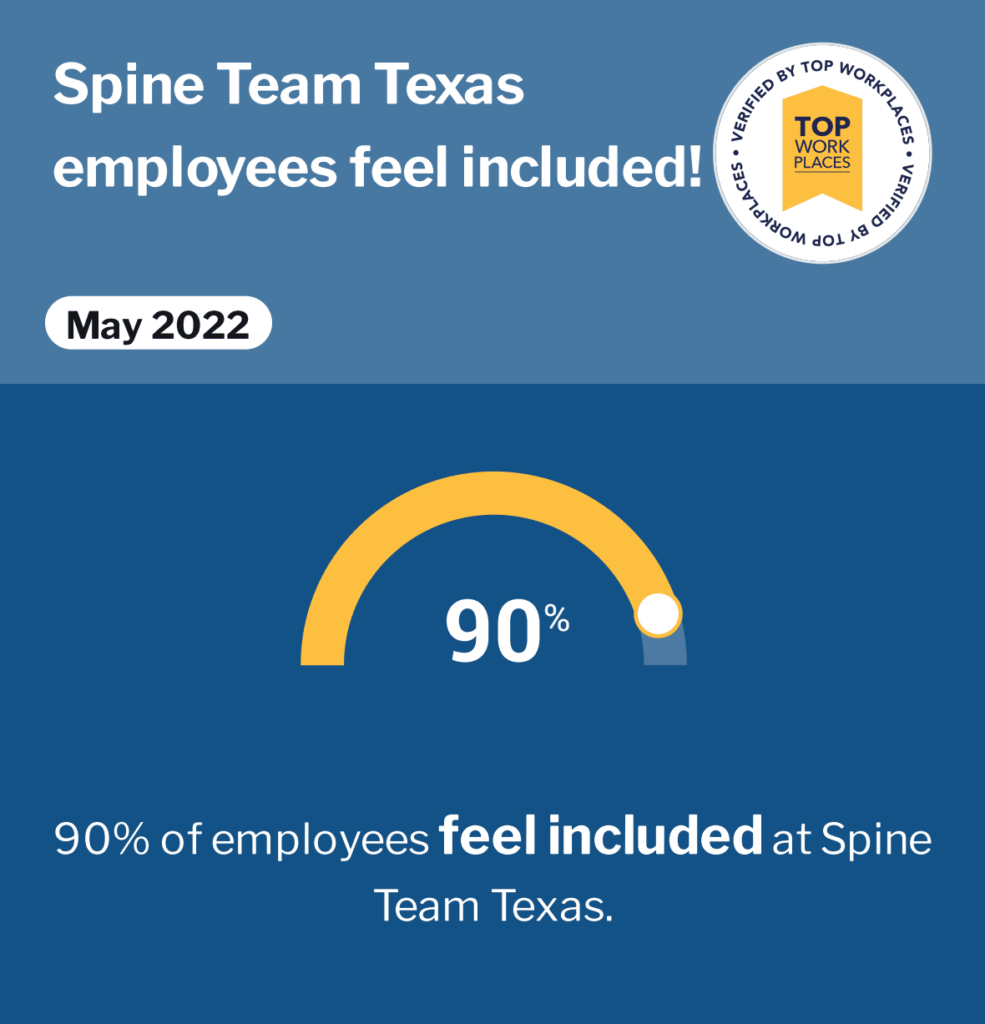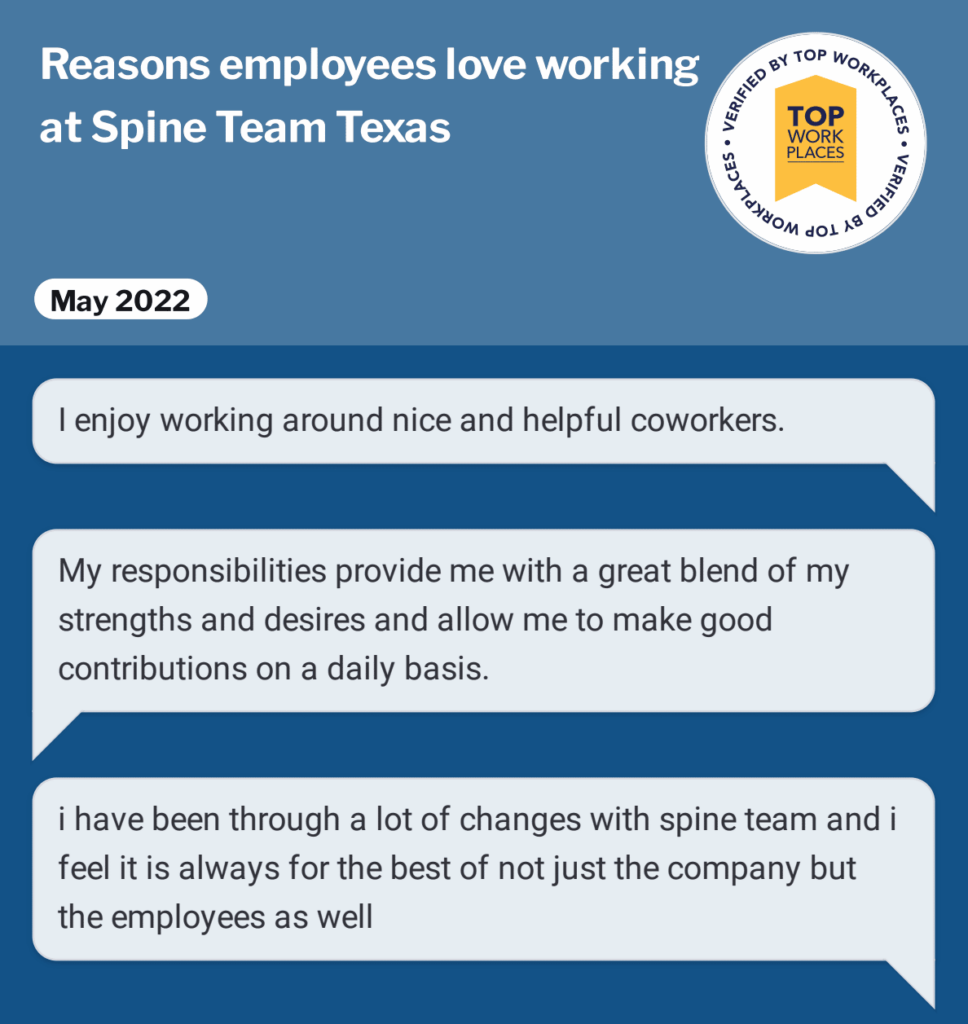 "Spine Team Texas is the best in the business! From the front desk, to the doctors, and everyone in between,
I feel like a valued employee.
So proud to work at a company that recognizes and listens to me."