Spine Team Texas is proud to announce one of their physicians has been invited to be a featured speaker at the Texas Society of the American College of Osteopathic Family Physicians (Texas ACOFP) Family Practice Review conference on April 30, 2016.
Dr. R. Scott McPherson, a physical medicine and rehabilitation specialist, will speak on the topic of Opioid Risk Assessment and Centers for Disease Control (CDC) updated guidelines for their use. The conference is open to physicians and is designed to provide education on the latest advancements in the art of science and family medicine.
"This is a notable invitation as Dr. McPherson is not only a valued member of Spine Team Texas, but we celebrate the fact that his thought leadership is recognized and sought after for the purpose of educating other medical professionals outside our practice," said Mark Hood, CEO of Spine Team Texas.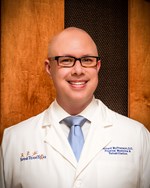 R. Scott McPherson, D.O.
Physical Medicine and Rehabilitation, specializing in acute musculoskeletal spine pain management & diagnostic studies
Triple Board-certified in Physical Medicine and Rehabilitation, Sports Medicine, and Pain Medicine
Dr. McPherson contributes a wide range of expertise to the non-surgical management of spine disorders at Spine Team Texas, including electrodiagnostic testing, spine rehabilitation, medication management, peripheral joint injections and interventional spine procedures. He is a Doctor of Osteopathic medicine with sub-specialty training in the management of musculoskeletal spine disorders.